Reward for achievement!
A combination of Team Building, "Sharpen the Saw", lavish lifestyle and a good dose of kinship and hospitality Rejuvenation that "Thailand does like no other". "There can be but only one"
Our secret ingredient
"Laeh kha suan dtua" = "P.A."
Our authentic (not academic) local Thai team of P.A.'s (Personal Assistants) are avail 24/7 to ensure a seamless and dynamic experience.
Eeryone was so unhappy (that the tour ended) we will have to do it again!
The concept is K.I.S.S. - knowing the state of play for W.A. Biz (legacy of our mining boom) we offer an antidote.
Editorial by Dr. Kenneth Yap, Assistant Professor of Marketing
UWA Business School
University of Western Australia.
I was a participant in a tour organised by "Aussie Exec Tours Bangkok". The tour comprised Australian business executives (male and female) and commenced on the 28th of November, 2010 with a return-trip from Perth to Bangkok.
The concept of this tour revolved extensively around the objectives of team building, hospitality rejuvenation, business networking and cultural exchange.
I found this tour concept to be cutting-edge, where participants gained an immensely greater appreciation of interpersonal skills and group dynamics resulting from team building activities. This helped to build better rapport within the organisation.
I observed that not only did the executives find fresh perspectives about their colleagues, but they also rejuvenated their impression of the wholesome hospitality that is unique to Thailand and Thai culture. The tour host also offered introductions to trade links, thus creating a platform for import/export opportunities.
The integration of local Thai Personal Assistants (P.A.) into the team was a significant factor in localising the experience.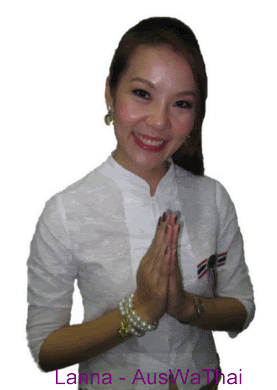 The P.A. helped immersed executives in the culture by providing local knowledge, translation and orientation services. All of us enjoyed a seamless cultural bond as the P.A. participated in all team events including team building activities.
Certainly for me, this served to enrich the unique experience of cultural exchange and extended friendships. I enjoyed my visit to Bangkok thoroughly because the P.A. made the tour seamless and memorable. I look forward to my next trip to Bangkok, hopefully with my group of International Marketing students.
On a related note, I was asked to attest the skills set of Arwee Manigluck, to assist with her Visa application to visit W.A. to help promote this unique concept. Apparently the visa officer claims her fluency in English Thai-English translation ability is doubtful.
To this end, I have no hesitation in providing both my assessment and recommendation of her competency and skills set. Arwee's fluency in English is well above-average and more than sufficient to perform her role in Perth. In my seven-day executive tour of Thailand, I had no difficulty in conversing with her. She was very capable in communicating and interacting with all participants of the tour group.
Picture left
Arwee receiving a token award from Tour Guest Noel carter, Director of W.A.T.C. (West Australia Turf Club).
In several circumstances, Arwee demonstrated significant maturity and problem-solving skills. This was most obvious during the occasional logistical hiccups, which would be expected of a pilot tour. These skills set enabled her to perform effectively in her role of Tour Manager, Translator, and Liaisons Officer.
Promo video