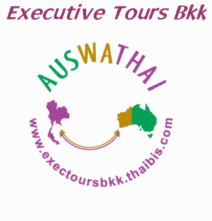 Welcome to "Exec Tours Bangkok" your market place for unique customisable travel experiences, where you connect with local people who have local knowledge and expertise and are keen to share it with you.
Australian Biz Execs and their team
Sharpen the saw, Team Building, and experience hospitality that's simply Amazing.
We know you'll be enchanted and request introduction to the Australian Business Community Bangkok, from their you'll see the endless possibilities to expand your Business Dynasty and launch into Trade opportunities with Asia.
With our Alliance with AustCham, the leading Business network for Australia in Thailand ensures you meet the right people.
Our tours are for people that want to do more than just see the sites.

Our "Personal Assistants" are members of the community where they work.

Our P.A.'s are enthusiastic passionate people, eager to help you experience their community and environment from their point of view.

Most of our P.A.'s are independent, working for themselves. Others work for companies who have committed to excellent treatment of their workers.

Some of the people you'll find here are full-time P.A.'s, others do it part-time. All of them have a special story to tell. each P.A. has been screened before they become part of the system, and you can read uncensored ratings of their tours. In the rare case when problems develop "Exec Tours Bangkok" is there to help resolve them.
"ETB" only features private tours, no strangers, just you and the people you want on your tour. Tours are categorised by Exec's and/or their Team
Business connections

Team Building

Medical Tours
We offer information on tour zones
"Tour Zones" (Family, Shopping, Nightlife),

Censorship rating F (Family), PG (Parental Guidance), M (Mature licenced premises), R (Adults only), X-up2u

Popular Tours

Team Building and Corporate Challenges
We create unique interactive maps of Bangkok where you can use our Fast-rack maps and expand your search or D.I.Y. use or Search word Index and build your own tours
Our search feature lets you easily find the tour that meets your needs. If you'd like a customise tour, our system makes it easy to request changes.
Tour pricing is based on a single price, and fees charged if there are entrance fees tickets or other valid reasons.
In most cases you'll pay the full cost of the tour on booking.
The P.A. is independent and sets their own price you do not tip them. "Exec Tours Bangkok" promotes ethical tourism, the idea that travellers have an obligation to support the communities they visit. When you book a "P.A.", you know where your money goes.
In most cases this is directly to the person providing the service, if it's not, we'll tell you where your money goes and why.
"Exec Tours Bangkok" promotes a unique travel experiences. It's not for everyone, but it might be where you'll find your next travel adventure.
Here is a recent tour Book for a 4 day team building adventure
see the photo slide show at http://www.exectoursbkk.thaibis.com/visitors/2010-11-team-building-4-days
or
Promo Video on
this page